Assalammualaikum...


Tahukah anda? Sebenarnya kita tidak perlu mengeluarkan kos yang tinggi untuk ke klinik gigi semata-mata untuk memutihkan gigi. Ada cara yang lebih baik, jimat kos dan semulajadi yang boleh digunakan untuk memutihkan gigi kita. Haah...cuma kita tahu dan tak tahu jer kan? That's why lar dari kita busy-busy dok citer pasal perihal kehidupan kita kat orang lain, why not kita tambah dan sebarkan ilmu yang sememangnya banyak kita tidak tahu selama ni.

Bagaimanakah cara untuk memutihkan gigi kita secara semulajadi? Let's checkout!

1. Kulit Pisang
Lepas ni kalau makan pisang, kulit pisang jangan dibuang. Gosokkan kulit pisang pada gigi anda dalam 2 minit. Dikatakan kulit pisang mengandungi banyak mineral seperti potassium, magnesium dan manganese yang merupakan bahan semulajadi untuk memutihkan gigi anda. Jangan lakukan sekali jer! Lakukan beberapa kali sampai nampak hasilnya!

2. Arang / Charcoal
Kalau anda berani, gosokkan arang dengan rata pada gigi anda. Biarkan seketika dulu. Barulah bilas dengan air. Cara ni mungkin akan menakutkan anda bila melihat gigi anda kelihatan hitam macam zombie. Tapi lihatlah hasilnya nanti. Sangat menakjubkan! Emm...aku tak berani nak cuba cara ni. Kalau kulit pisang tu yer lar juga!
Campurkan 3/4 sudu serbuk kunyit dengan sedikit air suam, cukup untuk dijadikan sebagai pes. Beruskan pada gigi selama 1 minit atau selamanya yang mungkin. Bilas dengan air dan bersihkan dengan ubat gigi pula dan gosok seperti biasa.

4. Strawberry
Hohoho...siapa yang tak suka gosok gigi dengan strawberry kan? Real taste lagi. Ubat gigi kodomo lion perisa strawberry yang anak aku punyer pun cuma dapat bau sipi-sipi jer! Kalau macam ni lar cara nak putihkan gigi, aku pun nak buat gak! Hati-hati dengan biji yang terdapat dalam strawberry. Kena bilas betul-betul tau! Dikatakan model terkenal Tyra Banks dan pelakon terkenal, Catherine Zeta Jones turut mengamalkan cara ini untuk memutihkan gigi mereka! Whoaa...ni sudah gempak! Jom beli strawberry lepas ni!


5. Baking Soda and Hydrogen Peroxide
This works great as a natural teeth whitener. Many people confirm to the fact that it does make their teeth look whiter. Mix a small amount of hydrogen peroxide with a small amount of baking soda to make a paste. Brush your teeth as usual, making sure you brush those back teeth too. Hydrogen peroxide is an anti-bacterial agent and works great as a total mouth and gum cleaner and keeps the mouth free of germs.
Baking soda is a gritty substance like sandpaper so be careful that you have enough hydrogen peroxide mixed in with the soda because if you don't it can very well scrub the enamel right off your teeth and enamel does not grow back. The paste should not be gritty at all, and in fact it should be a runnier paste than a stiff paste.
Ini baking soda yang dijual kat Malaysia
Ataupun yang ini.
Ini baking soda yang dijual kat Amerika. Tapi sebenarnya ini lar baking soda yang disyorkan untuk memutihkan gigi. Kat mana nak cari benda alah ni?


6. Minyak Kelapa
Can it be true? Coconut oil to clean your teeth? Just when you thought you heard it all when it comes to coconut oil, along it comes to the rescue as a teeth whitener. Some people are attesting to their teeth becoming whiter by applying coconut oil to their teeth after they brush. But for most people, they are praising the results of oil pulling. Simply put a spoonful of coconut oil in your mouth and swish it between your teeth for 5 to 20 minutes. Or add a few drops to your tooth brush and simple brush it on, or add the coconut oil to a corner of a clean wash cloth and rub it on. Also, coconut oil has antimicrobial properties so it's great for your gums as well.

7. Apple cider vinegar
It makes sense that apple cider vinegar would eventually remove stubborn stains on the teeth, especially from coffee and nicotine. It has been proven that it does work but you have to be consistent and it takes a least a month of continuous usage to see results. Some say that using ACV looks like you just got your teeth professionally cleansed. Be careful, as with all acids, it can remove the enamel on your teeth as well. After brushing with ACV, you will need to brush again with regular toothpaste, preferably a non fluoride paste, or rinse your mouth out really well.

8. Lemon dan orange
There have been reports that lemon and or orange peels will also do the trick of whitening your teeth. Guess you don't know until you try. Here again, these food products are very healthy and good for your stomach but the acid content might eventually wear away the enamel on the teeth. So if you use lemon or orange peel always rinse afterwards to be on the safe side. A good oral mouth rinse is hydrogen peroxide because it keeps breath fresh by eliminating bad breath and also is a very good bacterial agent. Use half water and half hydrogen peroxide, swish around in your mouth and leave in for at least a full minute.

Kalau tak nak campur dengan hidrogen peroxide pun takpe, just potong buah lemon tu sikit dan sentalkan pada gigi anda. Tapi terkulat-kulat lar muka tu sebab nak tahan rasa masam lemon.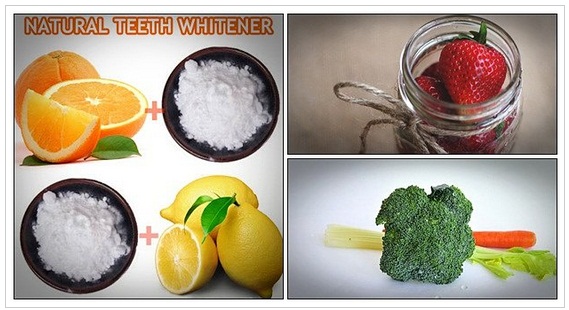 9. Crunchy Fruits and Vegetables
Memakan buah-buahan crunchy seperti epal sebenarnya boleh membersihkan gigi anda secara semula jadi. Sehari dengan sebiji epal boleh menjauhkan gigi anda kelihatan kekuningan.


Tapi...

Sebelum mengamalkan cara di atas, baca ini terlebih dahulu...

Some Natural Whiteners Can Eradicate Enamel
Some teeth whiteners are just not a good idea to use, especially lemon juice. The acid in the lemon juice does great for bleaching clothes, hair, and getting stains out of furniture, but you wouldn't want to put lemon juice on your teeth every single day. Eventually the acid creates tiny holes in your teeth and then every kind of staining type food will seep into these tiny holes and remain there. The acid from the lemons is so strong it just eventually wears away the teeth causing cavities.

Can Teeth Whitening Harm Teeth?
Apparently many people are going for the gusto to have whiter teeth and are turning it into an addiction. Here's what one dentist had to say about teeth whitening strips. "There are people who can never get enough," says New York City dentist Dr. Irwin Smigel, president of the American Society for Dental Aesthetics. "I've had situations where people have needed root canals because they've overbleached, where tissues were damaged. You can wear away some of the enamel and your teeth will become translucent and unnatural. They'll become blue or blue gray."

Research has shown that teeth whitening products can damage the teeth by removing the enamel. Constant application of whitening strips have been shown to cause erosion of enamel over time and results in tooth sensitivity, especially with eating hot and cold liquids and foods.
Bottom line is whitening strips should be used in moderation. Teeth bleaching products should only be used under the guidance of your dentist. The best way to whiten teeth is by feeding your body lots of healthy foods for strong bones, teeth and gums and omitting coffee, tea and sugary foods in your diet. If you smoke, stop smoking. And brush and floss your teeth every day!
Ok, ni link video dia tunjukkan cara-cara nak putihkan gigi. Senang bukan, macam cungkil gigi jer!
Jom kita putihkan gigi secara semulajadi. Buat kat rumah jer! Tak perlu nak abiskan sampai beribu-ribu untuk putihkan gigi kat klinik swasta or bahan untuk pemutih gigi. Sangat...sangat...sangat membazir hokeey! Sebenarnya ada cara yang lebih semulajadi untuk memutihkan gigi kita. Ayoyo...mesti doktor gigi marah kat aku kang sebab takde patient pulak nak datang kat klinik untuk buat rawatan putihkan gigi. Tapi kalo untuk rawatan cuci gigi, korang kena ar buat kat klinik. Alah...cuci gigi tak mahal sangat kan, takde ar sampai beratus-ratus. Aku rasa macam nak ikut cara Tyra Banks untuk putihkan gigi tu. Sental jangan tak sental tau!

Sayangi lar duit korang...
Thanks for reading this entry!